Written by Patricia Feeley, Collaborative Services Librarian, Boston Public Library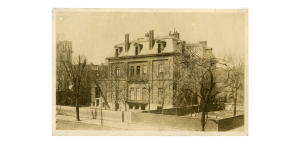 Massachusetts Normal Art School opened in 1873 with the goal of educating art teachers to teach drawing at lower levels of education.  The hope was that this effort would result in more architects for the growing country.  Massachusetts Normal Art School became Massachusetts School of Art became Massachusetts College of Art and, finally Massachusetts College of Art and Design (MassArt).
MassArt prides itself on having always been a progressive school.  As a teacher's college, it began with a majority female student body.  MassArt also accepted African-American students early on.  It was, and today is the only, publicly-funded art-only school in the country.  Over the years, the mission has changed, but the creativity of the students continues.
Danielle Sangalang has only been at MassArt for a little over a year.  After graduating with a dual degree of MA in history and MLS in library and information science with a concentration in archives studies from Simmons College, she obtained a history degree and worked for the Department of Conservation and Recreation, the National Park Services and the Trustees of Reservations.
When she arrived at MassArt, the college had already digitized a physical exhibit of historical photos on campus life.  She has since used Digital Commonwealth (DC) to digitized school yearbooks and just last month dropped off a collection of student handbooks.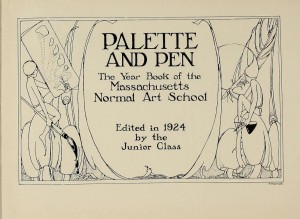 Danielle had a great experience working with Digital Commonwealth.  She appreciated the onsite visit which allowed her to float her ideas and listen to suggestions from DC staff.  Together they decided to use the option of having her bound materials scanned by Internet Archive.  Danielle was aware of DC from as long ago as her days at Simmons College.  As a professional, she thinks DC is a great resource for "lone arrangers" like her, especially because it is free.  She knew as soon as she started at MassArt that she wanted to begin to work with DC to digitize some of her collection's treasures.
Danielle's yearbook project began with an email July 19, 2016.  A site visit was scheduled for September 7 and the first yearbooks were dropped off September 14.  The entire project was done by December 12.  As quickly as this went, Danielle wished she'd known ahead that she would be without the yearbooks for months.  Some of the yearbooks were unique copies and she was continued to receive requests for scans while they were inaccessible.
It was worth it, though.  Once the yearbooks became available, Danielle sent an all-campus email announcing the completed digitization.  Staff and faculty responded quickly with their thanks and delight at being able to view the yearbooks online.
Danielle's second project was MassArt's Student Association handbooks, a collection spanning 80 years beginning in the 1920's.  This collection is Danielle's pick for highlighting.  The early years are both handbook –rules and regulations, the "MSA creed", student activities – and directory – student names, addresses and telephone numbers.  For anyone interested in the history of MassArt, they are a goldmine.
The 1937-1938 handbook, for example, offered students information on the glee club and yearbook committee, but also the magic and fencing clubs.  Danielle pointed out that the magic club existed for 10 years.  Who knew?
Danielle plans to continue to use DC as MassArt gears up to celebrate its 150th anniversary in 2023.  If DC didn't prioritize collections from institutions who have not previously had a project done in the current fiscal year, Danielle would be submitting requests as fast as DC could do them.
Speaking of MassArt's history, that once physical exhibit now digital collection on Campus Life is available on the DC website.  The photos span late 19th century class trips to Lake Asquam in New Hampshire to a studio of students playing checkers in 1918 to mid-20th century fashions from the design classes.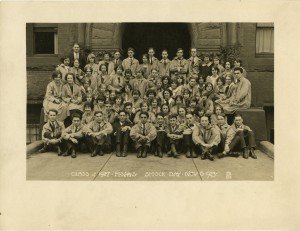 A charming bit of MassArt's history is Smock Day. Danielle only recently learned that Smock Day was the final acceptance of the freshman into the ranks of the student body.  The seniors gave smocks to the freshmen to welcome them.  It was a big deal: There were Smock Day class photos, Smock Day dances (Admission was free with Student Association membership.) and the school president gave a dinner in honor of Smock Day.  Quite the welcome!
Photos of students' work are not abundant.  Danielle would love to have the final drawings students do to complete their degrees digitized.  The drawings are loose and come in a variety of sizes, so they are not prime candidates for digitization.  But come the day DC can handle them, Danielle will be there with her completed application.